D.I.Y Wallbed Kit
Overview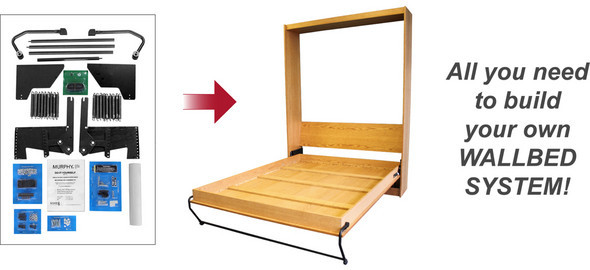 With this wall bed hardware D.I.Y kit you can create your own wall bed of any size vertically or horizontally.
The Wall Bed Hardware D.I.Y Kit includes the spring mechanism, springs, legs & leg connector rods.
All you need to purchase is the Timber.
Timber cutting information and assembley instuctions is supplied within the kit.
Highlights
The Wall Bed Hardware D.I.Y KIT is made up of the following:
(A) Counter Balanced - Spring Loaded Lift Mechanisms.
(B) Complete Leg Assembly - Trip Free© Legs with new, segmented Leg Connector Bar; patent pending.
Provides all hardware and fittings to completely assemble the cabinet, install the mechanisms, and install leg assembly.
Complete, easy to follow, step by step instructions.
18 page manual includes cut lists and assembly instructions for Single/Twin, Double/Full and Queen beds.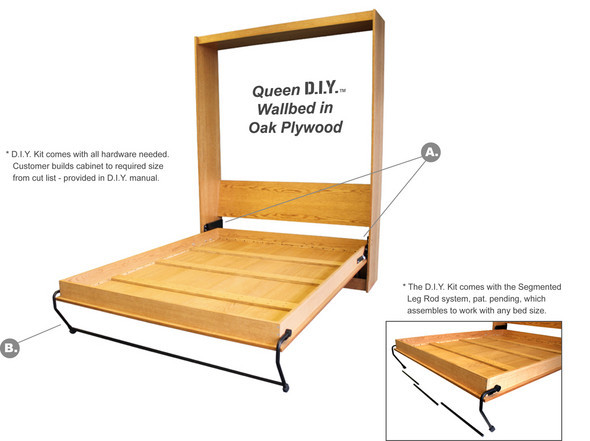 Our mechanisms are the most heavy duty in the wall bed industry. The larger rivet, mounted in lubricated brass bushings make this mechanism the strongest and most reliable. Steel protective covers (not plastic) insure years of safe operation.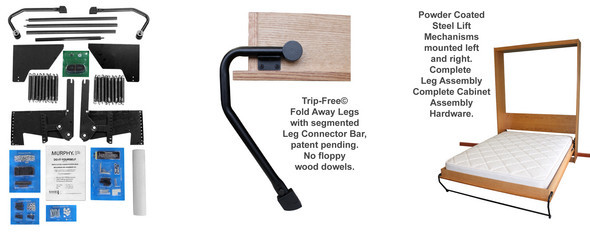 Features
What we offer EXTRA in this product that others at comparable prices do not:
Heavy-duty mechanism with a Lifetime Guarantee
Safety Steel Mechanism Covers
Complete Cabinet Assembly Hardware
Complete Leg Assembly with patent pending Leg Connector Rod
The best and most complete instruction manual
Brochure
Click the link below to download the full pricing brochure as a PDF
D.I.Y Hardware Kit Product and Price Brochure_9-18
Cabinet Dimensions
Click on the link below for a full copy of the cabinetry cut list and assembly intsructions.